EIDL Loan Eligibility and Loan Specifics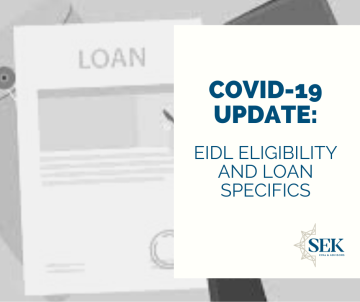 To our valued clients:
One of the many policy responses to the COVID-19 pandemic by the Small Business Administration (SBA) was providing businesses with an opportunity to obtain an Economic Injury Disaster Loan (EIDL). These loans were requested directly on the SBA website and are now being approved based on the information provided and the certifications made by businesses during the application process. 
EIDL loans are typically 30 years in duration and bear an interest rate of 3.75% for businesses and 2.75% for non-profits. The SBA is currently approving loans and sending DocuSign loan applications for funding.
We encourage you to read the attached article closely, which we have shared with permission. We recommend you share this with Company counsel to assist you in developing an opinion as to your Company's eligibility to accept an EIDL, paying particular attention to the "substantial economic injury" criteria for obtaining such a loan. In addition, we encourage you to seek counsel's assistance in evaluating how funds are meant to be spent and continuing SBA requirements (including the apparent prohibition against owner dividends) that will exist while these loans are active. These matters are NOT tax or accounting matters, and as such, we are unable to provide assistance in helping you make your determination. These determinations are legal matters that are outside of the scope of SEK's practice.
Finally, if you keep EIDL funds, we ask that you share with us counsel's opinion and any/all financial requirements.
Please reach out to your Client Relationship Manager with any questions or concerns.