Recent News & Blog
/

Local Governments & Schools: Enhance Your Financial Insight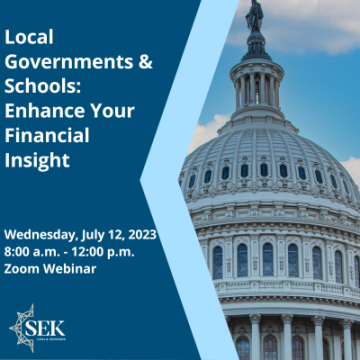 May 16, 2023
Enrich your knowledge by joining us at SEK's sixth annual seminar for local governments and schools. Our team of experts will provide you with timely updates on industry changes and valuable tips to optimize your organization's performance.
This event is for local governments and schools. Finance Directors, Controllers, Business Managers, Borough/Township/Authority Managers, District Managers, Secretaries, and Treasurers are encouraged to attend.
Free webinar
Wednesday, July 12, 2023
8:00 a.m. - 12:00 p.m. EST
Virtual Event via Zoom
4 hours of CPE credit provided for attendance.
Please note this is a virtual event only. There will be no in-person attendance option.
Sessions
 
Navigating Compliance of Federal Awards 

Many governments have received additional federal funding in recent years. Get up to speed on the compliance requirements associated with federal awards.

Presented by Kevin Stouffer, CPA, Member of the Firm | SEK
 

Employment Law Update & Recruiting/Retention

A review of recent employment law updates affecting local governments and tips to help you navigate your organization's employee recruitment and retention efforts.

Presented by Laura Stover, SHRM-SCP, SPHR, Director of HR Advisory Services | SEK
 

GASB Standards Update and GASB 87: Leases

Learn about recent and upcoming standards from the Governmental Accounting Standards Board (GASB). Take a deeper dive into the Lease standard and what we learned during the year of implementation.

Presented by Craig Witmer, CPA, CGFM, Member of the Firm, and Teena Curnow, CPA, Manager | SEK
 

Data Privacy Best Practices for Governmental Agencies

Data privacy laws impact all types of organizations. Learn best practices for identifying and securing your organization's data, the steps to take when responding to a data security breach, and the importance of having an incident response plan in place.

Presented by Bob Hoster, CPA, CISA, CFSA, CFIRS, Supervisor | SEK
 

Rethinking the Budget Process

An overview of budgeting best practices for local municipalities and school districts. The discussion will include everything from policy to analysis, and planning to monitoring your organization's budget.

Presented by Krista Gardner, Member of the Firm, and Erin Clark, CPA, MBA, Manager | SEK
 

Grant Writing for Governmental Entities

Discover the keys to developing a comprehensive plan that helps your local government achieve its goals. Learn where to find the most promising grant opportunities and how to write effective grant proposals that set your organization apart. Drawing from years of experience, Kathyrn will share her top tips for securing grant funding and ensuring that your local government is well-positioned to succeed.

Presented by Kathyrn Gratton, Owner | Red Lips Mentor, LLC
 

QuickBooks Desktop vs. QuickBooks Online: What You Need to Know

Explore the differences between QuickBooks Desktop and QuickBooks Online as they relate to governmental accounting. We will discuss key differences, points to consider, and the necessary steps to take before converting to QuickBooks Online.

Presented by Bonnie Aleshire, Support Accountant Supervisor | SEK