Restaurant Revitalization Funding Available to Restaurants, Bars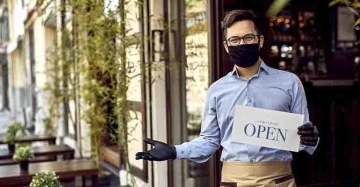 May 4, 2021
The U.S. Small Business Administration (SBA) is awarding $28.6 billion in funding to restaurants, bars, and other similar places of business that serve food or drink. The Restaurant Revitalization Program is part of the recently passed American Rescue Plan Act (ARPA) and is intended to support those that suffered revenue losses related to the pandemic.
The funding will remain available until expended, and the SBA will continue to accept applications subject to availability of funds. It is expected that Restaurant Revitalization Program funds will run out, so we suggest you act quickly if you have interest in applying.
Click here for cross-program eligibility on SBA COVID-19 relief options.
Eligible entities
Eligible entities who have experienced pandemic-related revenue loss include:
Restaurants
Food stands, food trucks, food carts
Caterers
Bars, saloons, lounges, taverns
Licensed facilities or premises of a beverage alcohol producer where the public may taste, sample, or purchase products
Other similar places of business in which the public of patrons assemble for the primary purpose of being served food or drink
Snack and nonalcoholic beverage bars
*Bakeries
*Brewpubs, tasting rooms, taprooms
*Breweries and/or microbreweries
*Wineries and distilleries
**Inns

*Must provide proof that on-site sales to the public comprised at least 33% of gross receipts in 2019. For businesses that opened in 2020 or have not yet opened, the applicant's original business model should have contemplated at least 33% of gross receipts in on-site sales to the public. For inns, on-site food and beverage sales specifically.
Funding amount
Payment calculation
For applicants in operation prior to or on January 1, 2019: Gross receipts minus 2020 gross receipts minus PPP loan amounts
Detailed, step-by-step payment calculation instructions and calculations for entities that began operations partially through 2019 or after January 1, 2020 can be found in the Program Guide linked at the bottom of this article.
Maximum and minimum amounts
SBA may provide funding up to $5 million per location, not to exceed $10 million total for the applicant and any affiliated businesses. The minimum award is $1,000.
Gross receipts
For the purposes of this program, gross receipts do not include:
Amounts received from Paycheck Protection Program (PPP) loans (First Draw or Second Draw)
Amounts received from Economic Injury Disaster Loans (EIDL)
Advances on EIDL (EIDL Advance and Targeted EIDL Advance)
State and local grants (via CARES Act or otherwise)
SBA Section 1112 payments
 
Allowable use of funds
Funds must be used by no later than March 11, 2023, for specific expenses including:
Business payroll costs (including sick leave)
Payments on any business mortgage obligation
Business rent payments (note: this does not include prepayment of rent)
Business debt service (both principal and interest; note: this does not include any prepayment of principal or interest)
Business utility payments
Business maintenance expenses
Construction of outdoor seating
Business supplies (including protective equipment and cleaning materials)
Business food and beverage expenses (including raw materials)
Covered supplier costs
Business operating expenses
 
Application
The Restaurant Revitalization Award Portal will help you calculate your eligible award amount, monitor status, and interact with the SBA.
The SBA has also provided a sample version of the application.
 
We're Here for You!
Fill out the Contact Form below if you would like our assistance, and a member of the team will be in touch shortly!
 
Article Sources