Building Stronger Nonprofits Through Better Financial Management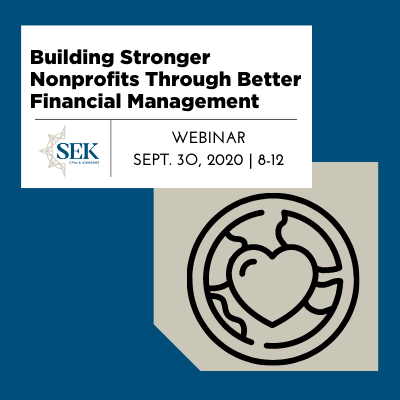 Increase your knowledge at our fourth annual event tailored to nonprofit entities. Our team of experts will quickly get you up to speed on industry changes and tips to improve your organization.
We are going virtual this year!  Please note that this event was originally scheduled as a seminar in Gettysburg, PA and has been moved to webinar format.
Zoom Webinar
Wednesday, September 30, 2020
8:00 a.m. - 12:00 noon - 4 Hours of CPE credit provided!
Agenda
Keynote: Nonprofit Collaboration with Other Agencies - Collaboration for greater impact

Presented by Heather Guessford, President + CEO, United Way Washington County
 

Grant Writing - Events over the past few years have shifted the way America supports the important missions of community organizations. Are you prepared to pivot those realities to asset for your organization?

Presented by Kirsten Hubbard, Ghost Writer
 

Cybersecurity

Presented by John Berry, Owner, Berry Solutions Group
and Melissa Kaiser, Director of Business Development, SOCSoter
 

Accounting for PPP Loans - Accounting considerations for the Paycheck Protection Program Loans

Presented by Gregory Hall, Member of the Firm, SEK
 

Importance of Effective Internal Controls - Understand the basics of good internal controls for your organization and the pitfalls of not having them in place

Presented by Gregory Hall, Member of the Firm, SEK
and William Oyster, Member of the Firm, SEK
 

Practical Approach to Implementation of Leases - 

Learn about practical ways and options to aid in the implementation of the new lease standard

Presented by Gary Snyder, Audit Manager, SEK
 

Revenue Recognition for Contracts with Customers - How the new revenue recognition standard may impact your organization's bottom line

Presented by Erin Clark, Audit Manager, SEK 
 
Space is limited! We reserve the right to give our clients and referral sources first priority and invite others to attend if space is available.