Local Governments + Schools: Enhance Your Financial Insight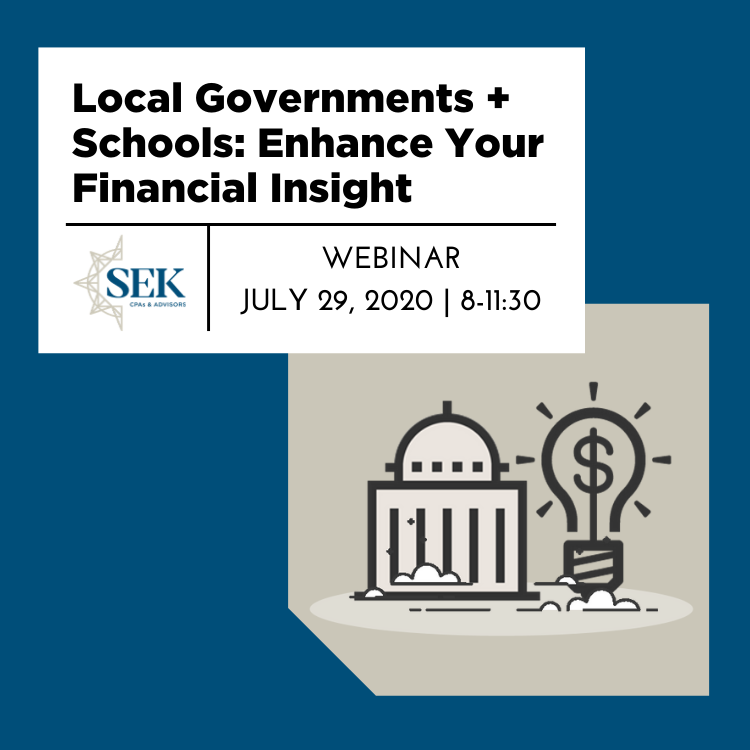 Increase your knowledge at our third annual event tailored to local governments and schools. Our team of experts will quickly get you up to speed on industry changes and tips to improve your organization.
Finance Directors, Controllers, Business Managers, Borough Managers, District Managers, Secretaries, and Treasurers are encouraged to attend.
Zoom Webinar
Wednesday, July 29, 2020
8:00 a.m. - 11:30 a.m. - 4 Hours of CPE credit provided!
Agenda
Importance of Effective Internal Controls - Overview of key oversight areas and COSO (Committee of Sponsoring Organizations) framework model

Presented by William D. Oyster, CPA, Member of the Firm
 

A Closer Look at Footnote Disclosures - Delve into long-term debt and capital asset financial statement footnote disclosures

Presented by Kevin B. Stouffer, CPA, Member of the Firm
 

Concurrent Sessions: (choose between GASB updates + QuickBooks during registration)

Option 1: GASB 84 + 87 Updates ​​​​​​

GASB 84 - Fiduciary Activities: A deeper dive into some recent changes for defined contribution plans
GASB 87 - Leases: What qualifies as a lease and other frequently asked questions

Presented by Craig E. Witmer, CPA, CGFM, Member of the Firm and Teena R. Curnow, Supervisor
 

Option 2: QuickBooks Tips + Q&A

Our Certified ProAdvisor gives you all the tools for success. 

Submit your questions during registration
Please note that the session will be focused on QuickBooks Desktop. If we receive enough responses for QuickBooks Online, we will add a separate session for Online users

Presented by Bonnie S. Aleshire, Certified QuickBooks ProAdvisor
 

Advanced Uses of Excel - Explore less known features of Excel that will help you gain efficiencies in everyday use

Presented by William D. Oyster, CPA, Member of the Firm
 

Crisis IT Response + Working Remotely - Significant IT processes and controls your organization should have in place as more employees work remotely

Presented by Robert L. Hoster, CPA, CISA, CFSA, CFIRS, Supervisor
 

Disaster Preparedness Best Practices - Steps to establish or enhance your disaster preparedness and recovery processes

Presented by Taylor M. Rote, CPA, Supervisor
 

Human Resources Updates - Timely updates to keep your organization in compliance

Presented by Laura L. Stover, SHRM-SCP, SPHR, HR Manager
 
Space is limited! We reserve the right to give our clients and referral sources first priority and invite others to attend if space is available.