Recent News & Blog
/

2023 Year-End Year-Round Tax Planning Guide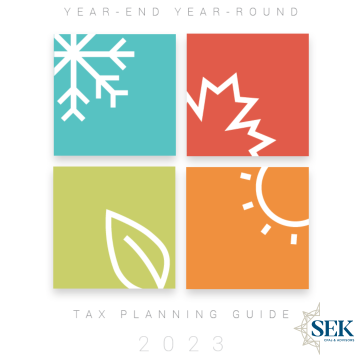 November 7, 2023
At SEK, we are dedicated to helping you maximize your income through a variety of tax-saving strategies. We are excited to share our 2023 Year-End Year-Round Tax Planning Guide, which includes:
2023-2024 tax brackets
Strategies for individual taxpayers
Opportunities for business owners
There are a number of tax developments to consider for the current tax year. Keep in mind that this resource is intended to provide broad suggestions only. There is no substitute for the guidance of an advisor who keeps your specific needs in mind.
We look forward to working with you to review your tax situation and ensure that you are prepared to navigate the post-pandemic world with confidence. Contact us today so we can help you find the right strategy for your future.