Big News: We Have Rebranded!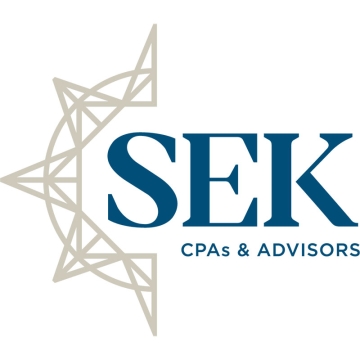 Smith Elliott Kearns & Company, LLC is a regional CPA firm that provides professional accounting and consulting services for a range of both residential and commercial clients. Our six offices are located in Camp Hill, Carlisle, Chambersburg, Hanover, and York, Pennsylvania; and Hagerstown, Maryland. Although we can handle anything that is thrown our way, we specialize in proactive consulting – helping you make changes that will simplify your life or business and better plan for your financial future.
We are pleased to announce that we are refreshing our branding. Over the years, our clients and communities have come to refer to us by the acronym "SEK," and we are proud to incorporate that title as a part of our sleek new brand redesign. We're thrilled to be launching our new logo design, the compass, as a part of this new brand identity. This new logo is born out of the need to be able to better communicate what we stand for. We found that our previous logo didn't fully illustrate our commitment to guiding our clients to make wise and well-informed financial decisions. With the compass representing us, our pledge to provide our clients with clarity of direction and peace of mind is clearly demonstrated. Rest assured, we are still the same company and team, but now with a new and bolder presence.
The logo design is a modern contemporary take on a compass, which represents directional values; SEK promises to lead our clients in the right direction financially. Whether it be for your company's books or your personal taxes, our team comes to the table with years of knowledge and experience. The guidance that we offer will continue to be precise, just like the sharp points of the compass. We don't leave you to do any guesswork for your finances. The new tagline accompanying the logo is both a promise and a play on words. "Guidance you can count on" highlights both the trust you can put into SEK and the mathematical part of our work.
SEK takes exceeding your expectations very seriously; we want to provide you with accurate and high quality advising and accounting services at a reasonable price and completed in a practical amount of time. We want to get to know you personally, so that we can work with you to anticipate your needs. This makes it simpler to proactively work to navigate any financial hurdles you may encounter. Our responsive, customer-focused process seeks to educate you about your finances. While we're committed to our clients' personal growth, we are also deeply invested in our local communities. Our team members believe in giving back to foster growth and vitality in our local areas.
At SEK, we strive to be your partner. Our business and our brand are built on a strong foundation of integrity in our work and trust in our staff. For years to come, we want our compass to remind you of our commitment to providing guidance you can count on.