Recent News & Blog
/

Member of SEK, CPAs & Advisors Named NACVA 40 Under Forty Honoree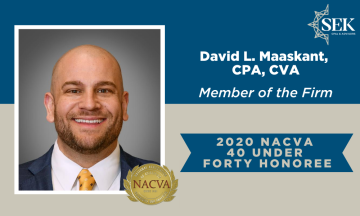 July 28, 2020
FOR IMMEDIATE RELEASE
July 28, 2020
Member of SEK, CPAs & Advisors Named NACVA 40 Under Forty Honoree
David L. Maaskant, CPA, CVA, Member of SEK, CPAs & Advisors, has been recognized as one of the 40 Under Forty by the National Association of Certified Valuators and Analysts (NACVA) for 2020.
Individuals were nominated for the 40 Under Forty recognition program by their peers, and the NACVA selected 40 of those nominees that exemplify the brightest emerging leaders in the profession. Selected honorees demonstrate the motivation, courage, and drive needed to lead the industry's next generation and are recognized for both past accomplishments and their contributions to come.
David joined SEK in 2016 and was admitted as a Member of the Firm in 2019. As a lead member of the firm's Business Valuation Team, he performs thorough, quality valuations for a variety of purposes. David gained valuation knowledge through years of study and practical experience. He has earned the Certified Valuation Analyst credential, which is granted only to qualified individuals with considerable professional experience in business valuation after completing an intensive training and testing process. In addition to valuations, David provides tax, accounting, and consulting services. He has 12 years of experience in audit, taxation, and valuation.
Congratulations to David for being named a 2020 honoree! To view a full list of 2020 40 Under Forty honorees, visit https://www.nacva.com/40underforty.

About SEK:
SEK, CPAs & Advisors has six regional offices in Hagerstown, Maryland; and Camp Hill, Carlisle, Chambersburg, Hanover, and York, Pennsylvania. The firm was founded in 1963 and was recently named a "Top 200 Firm" by Inside Public Accounting. With 27 Members and a staff of 150, SEK services individuals as well as business clients in a variety of industries including construction, employee benefit plans, healthcare, local government, manufacturing, and nonprofit. The firm offers financial statement preparation, auditing and assurance services, small business accounting, payroll services, QuickBooks® and Sage 50® training and consulting, tax return preparation and planning, estate planning and administration, business valuations, retirement plan design consulting, and third-party administration. For more information, visit www.sek.com.
Contact:
Kristina Tucker, Marketing Manager
Phone: 717-900-2021 | Email: ktucker@sek.com