SEK to Acquire Stambaugh Ness Not-for-Profit/Governmental Practice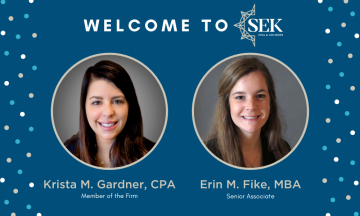 October 30, 2020
FOR IMMEDIATE RELEASE
October 30, 2020

The Members of SEK, CPAs & Advisors (SEK) are pleased to share that effective December 1, 2020, SEK will acquire the not-for-profit/governmental practice of Stambaugh Ness, a CPA firm located in York, PA that serves clients in 40+ states.
Krista M. Gardner, CPA is the Managing Director of the not-for-profit/governmental practice at Stambaugh Ness and will join SEK as a Member of the Firm. Erin M. Fike also works exclusively with not-for-profit and governmental clients and will join SEK as a Senior Associate. Gardner and Fike are based in York and will serve clients of all South-Central Pennsylvania offices.
This addition strengthens SEK's not-for-profit and governmental practices, two of the firm's core industry specializations, expanding its ability to provide meaningful guidance and customized solutions to those clients.
"Erin and Krista bring depth, experience, and a culture fit to our already strong Not-for-profit and Governmental Teams. This addition will help us continue to meet the changing needs of our clients now and in the future," states Managing Member John Schnitzer, CPA. "We are excited to welcome these talented professionals to our team."
"Erin and I are looking forward to joining forces with SEK's Not-for-profit and Governmental Teams. Their established footprint and appreciation for those industries, as well as the technical expertise they provide, will be a great fit for us, our clients, and the work that we are passionate about." Krista Gardner, CPA, Managing Director, Not-for-Profit/Governmental Group, Stambaugh Ness.
About SEK:
SEK, CPAs & Advisors has six regional offices in Hagerstown, Maryland; and Camp Hill, Carlisle, Chambersburg, Hanover, and York, Pennsylvania. The firm was founded in 1963 and was recently named a "Top 200 Firm" by Inside Public Accounting. With 27 Members and a staff of 150, SEK services individuals as well as business clients in a variety of industries including construction, employee benefit plans, healthcare, local government, manufacturing, and nonprofit. The firm offers financial statement preparation, auditing and assurance services, small business accounting, payroll services, QuickBooks® and Sage 50® training and consulting, tax return preparation and planning, estate planning and administration, business valuations, retirement plan design consulting, and third-party administration. For more information, visit www.sek.com.
Contact:
Kristina Tucker, Marketing Manager
Phone: 717-900-2021 | Email: ktucker@sek.com