SEK Admits New Member of the Firm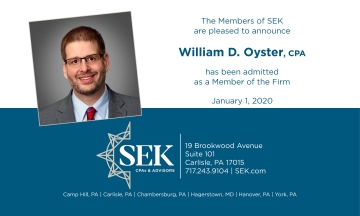 January 14, 2020
FOR IMMEDIATE RELEASE
January 14, 2020
SEK Admits New Member of the Firm
The Members of SEK are pleased to announce the following Manager was promoted to Member of the Firm effective January 1, 2020.
William D. Oyster, CPA has more than 20 years of experience and is an integral member of the firm's government audit niche, nonprofit audit niche, and low-income housing niche. He directs more than 70 engagements each year and has significant experience in performing single audits. Oyster's involvement with employee benefit plan audits and business consulting services strengthens his understanding of crucial areas within the organizations he audits. He also performs peer reviews of other CPA firms, which helps to enhance our own audit procedures.
Oyster is an instructor of our in-house training programs on governmental and nonprofit accounting, a presenter at our annual client seminars, and has been invited to speak at numerous external events. Additionally, he is a member of the firm's Accounting & Auditing Committee.
Oyster joined SEK's Carlisle office in 2017. He graduated with a Bachelor of Science in Business Administration and Accounting from Bloomsburg University.
About SEK:
SEK, CPAs & Advisors has six regional offices in Hagerstown, Maryland; and Camp Hill, Carlisle, Chambersburg, Hanover, and York, Pennsylvania. The firm was founded in 1963 and was recently named a "Top 200 Firm" by Inside Public Accounting. With 27 Members and a staff of 150, SEK services individuals as well as business clients in a variety of industries including construction, employee benefit plans, healthcare, local government, manufacturing, and nonprofit. The firm offers financial statement preparation, auditing and assurance services, small business accounting, payroll services, QuickBooks® and Sage 50® training and consulting, tax return preparation and planning, estate planning and administration, business valuations, retirement plan design consulting, and third-party administration. For more information, visit www.sek.com.
Contact:
Kirsten Stanley, Marketing Coordinator
Phone: 717-900-2021 | Email: kstanley@sek.com