SEK Admits Two New Members of the Firm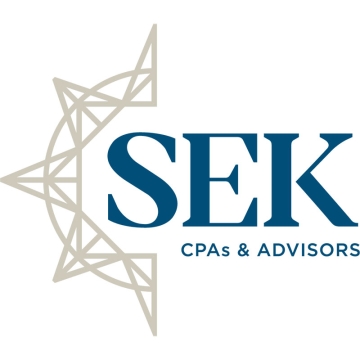 The Members of SEK are pleased to announce the following Managers were promoted to Member of the Firm effective January 1, 2019.
David L. Maaskant, CPA, CVA
David L. Maaskant, CPA, CVA provides business valuation and tax services to clients. He performs thorough, quality valuations for a variety of purposes, including buying and selling a business, federal estate taxation and planning, personal goodwill analysis, forensic accounting, and commercial loan underwriting for Small Business Association (SBA). He has earned the Certified Valuation Analyst credential, which is granted only to qualified individuals with considerable professional experience in the field of business valuation after completing an intensive training and testing process. David also specializes in providing tax planning, advisory, and compliance services to local area businesses.
Maaskant joined the Carlisle office as a Manager in 2016 and has over 12 years of experience in audit, taxation, and valuation. He graduated from Pennsylvania State University with a Bachelor of Science in Marketing and earned a Master of Business Administration from Pennsylvania State University.
Kevin B. Stouffer, CPA
Kevin B. Stouffer, CPA has dedicated his professional career to the local governmental industry. He has a thorough understanding of the technical standards, procedures, and practices unique to Pennsylvania governments. Stouffer is an instructor at SEK's in-house training programs on governmental accounting, which include topics like uniform grant guidance, fraud avoidance, and internal controls. He has been auditing governmental clients for over 14 years and serves on approximately 40 local government audits each year.
Stouffer joined SEK's Chambersburg office in 2004. He graduated cum laude with a Bachelor of Science in Business Administration from Shippensburg University.
About SEK
SEK, CPAs & Advisors has six regional offices in Hagerstown, Maryland; and Camp Hill, Carlisle, Chambersburg, Hanover, and York, Pennsylvania. The firm was founded in 1963 and was recently named a "Top 200 Firm" by Inside Public Accounting. With 26 Members and a staff of 150, SEK services individuals as well as business clients in a variety of industries including construction, employee benefit plans, healthcare, local government, manufacturing, and nonprofit. The firm offers financial statement preparation, auditing and assurance services, small business accounting, payroll services, QuickBooks® and Sage 50® training and consulting, tax return preparation and planning, estate planning and administration, business valuations, retirement plan design consulting, and third-party administration. For more information, visit www.sek.com.
Contact
Kristina Tucker, Marketing Manager
Phone: 717-900-2021 | Email: ktucker@sek.com