SEK Announces Supervisor Promotions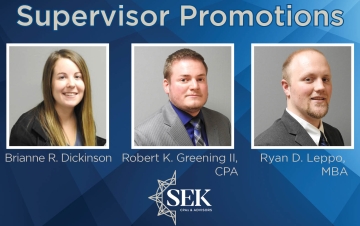 FOR IMMEDIATE RELEASE
January 9, 2020
SEK Announces Supervisor Promotions
The Members of SEK are pleased to announce the following staff members were promoted to Supervisor effective January 1, 2020.
Chambersburg, PA Office:
Robert K. Greening II, CPA specializes in business and individual income tax planning and compliance for industries such as farming, retail, construction, and small, closely-held business. He also works in payroll preparation, compliance, and research. In addition to his client responsibilities, Rob is a member of the firm's Payroll Committee. He earned an Associate degree in Accounting from Camden County Community College and a Bachelor of Science in Accounting from Shippensburg University. Rob joined SEK in 2015.
Ryan D. Leppo, MBA specializes in the preparation of tax and financial statements for medium-sized businesses with a focus on agricultural and construction industries and SALT (state and local taxes). He also works on financial institution tax returns and tax accruals, as well as governmental audits for school districts. In addition to his client responsibilities, Ryan is a member of the firm's State and Local Tax Committee and Young Professionals Committee. He has a Masters in Business Administration and Bachelor of Science in Accounting from Shippensburg University and is currently working towards his CPA certification. He joined the firm in 2014.
Hagerstown, MD Office
Brianne R. Dickinson primarily provides audit and review services to a variety of clients. She has a Bachelor of Science in Accounting and Business with an Economics and Finance concentration from Lock Haven University of Pennsylvania and joined the firm in 2016.
About SEK:
SEK, CPAs & Advisors has six regional offices in Hagerstown, Maryland; and Camp Hill, Carlisle, Chambersburg, Hanover, and York, Pennsylvania. The firm was founded in 1963 and was recently named a "Top 200 Firm" by Inside Public Accounting. With 27 Members and a staff of 150, SEK services individuals as well as business clients in a variety of industries including construction, employee benefit plans, healthcare, local government, manufacturing, and nonprofit. The firm offers financial statement preparation, auditing and assurance services, small business accounting, payroll services, QuickBooks® and Sage 50® training and consulting, tax return preparation and planning, estate planning and administration, business valuations, retirement plan design consulting, and third-party administration. For more information, visit www.sek.com.
Contact:
Kirsten Stanley, Marketing Coordinator
Phone: 717-900-2021 | Email: kstanley@sek.com