Recent News & Blog
/

SEK, CPAs & Advisors celebrates 60th anniversary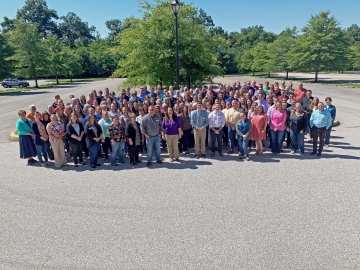 November 15, 2023
A full-service, certified public accounting and consulting firm, SEK, CPAs & Advisors first opened its doors in 1963. Over the next 60 years, a group of entrepreneurial-minded CPAs grew a small three-partner firm in Maryland into one of the premier CPA and advisory firms in the region. Today, SEK has five offices in Pennsylvania and one in Maryland, employing a total of 200 team members.
At SEK, we have provided personalized attention and the highest quality service to our clients for the last six decades. We couldn't have achieved this milestone without our incredible team of employees. They don't stop their hard work when they leave the office. Many team members are active in their local communities through volunteerism, financial contributions, and holding positions on Boards and Committees. To celebrate the team, SEK scheduled multiple events throughout 2023, including a trip to Hersheypark with families, summer office picnics, and an upcoming Cirque Musica holiday show at Luhrs Performing Arts Center.
Among other accolades, SEK was recently named one of the Best Places to Work in PA for 2023 by the Central Penn Business Journal and Lehigh Valley Business, as well as voted Tri-State's Best Accounting Firm for the second consecutive year by Herald Mail Media readers. The firm also received ClearlyRated's 2023 Best of Accounting Award for Client Satisfaction for the third consecutive year.
Now, more than ever, it is essential to partner with a firm that will provide you with timely updates and thoughtful guidance as it relates to you and your business. Our unique insight stems from taking the time to listen, evaluate each situation, anticipate needs, and identify opportunities. The result is an unmatched level of knowledge and expertise for our clients.
Client or not, we encourage you to sign up for our email updates at www.sek.com/subscribe. You can also view a complete listing of SEK's service and industry specializations on our website. For more information about the firm or our services, please visit www.sek.com. We look forward to helping you achieve your goals!