SEK Named Best Accounting Firm in the Tristate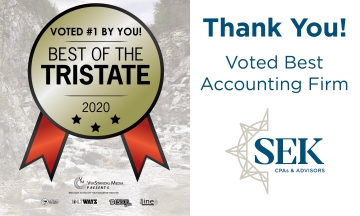 FOR IMMEDIATE RELEASE
April 22, 2020
SEK Named Best Accounting Firm in the Tristate
SEK, CPAs & Advisors has been recognized as Best Accounting Firm/Tax Firm in the Tristate for 2020 by VerStandig Media.
VerStandig Media (104.7 WAYZ, 92.1 The Goat, 101.5 Bob, and The Line 100.9 FM/1380 AM) listeners were invited to nominate who they believe are the best of the best in the Tristate, comprised of Pennsylvania, Maryland, and West Virginia. Other professional service categories included financial planner, insurance agency, law firm, and more.
Thousands of listeners voted, and SEK received top honors for Best Accounting Firm/Tax Firm. The full list of winners can be found here.
Thank you to all who nominated and voted for SEK!
About SEK:
SEK, CPAs & Advisors has six regional offices in Hagerstown, Maryland; and Camp Hill, Carlisle, Chambersburg, Hanover, and York, Pennsylvania. The firm was founded in 1963 and was recently named a "Top 200 Firm" by Inside Public Accounting. With 27 Members and a staff of 150, SEK services individuals as well as business clients in a variety of industries including construction, employee benefit plans, healthcare, local government, manufacturing, and nonprofit. The firm offers financial statement preparation, auditing and assurance services, small business accounting, payroll services, QuickBooks® and Sage 50® training and consulting, tax return preparation and planning, estate planning and administration, business valuations, retirement plan design consulting, and third-party administration. For more information, visit www.sek.com.
Contact:
Kristina Tucker, Marketing Manager
Phone: 717-900-2021 | Email: ktucker@sek.com