Recent News & Blog
/

SEK Named Best Tax Preparation Service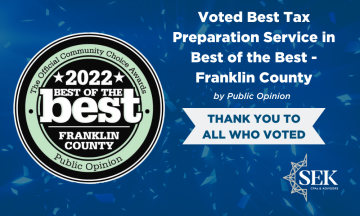 August 9, 2022
FOR IMMEDIATE RELEASE
August 9, 2022
SEK Named Best Tax Preparation Service
SEK, CPAs & Advisors has been voted Best Tax Preparation Service in the Best of the Best – Franklin County Awards for 2022.
In Public Opinion's annual Best of the Best program, readers nominate and vote for their favorite businesses and business professionals. Thousands of readers voted, and SEK received top honors for Best Tax Preparation Service.
Other finance service categories included bank, credit union, investment firm, and mortgage lending company. The full list of winners can be found here.
Thank you to all who nominated and voted for SEK!
###
About SEK, CPAs & Advisors
SEK, CPAs & Advisors is a regional accounting and consulting firm with 175 professionals across six offices in Pennsylvania and Maryland. Since 1963, SEK has been committed to providing meaningful guidance and customized services to individuals and business clients in a variety of industries. For more information, visit www.sek.com.

Contact
Kristina Tucker, Marketing Manager
Phone: 717-900-2021 | Email: ktucker@sek.com