Recent News & Blog
/

Timothy E. Peters, CPA, CFF, CGMA Earns Certified in Financial Forensics Credential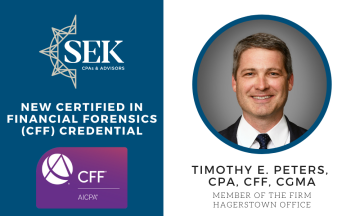 November 5, 2021
FOR IMMEDIATE RELEASE
November 5, 2021
Timothy E. Peters, CPA, CFF, CGMA Earns Certified in Financial Forensics Credential
SEK, CPAs & Advisors is pleased to announce Timothy E. Peters, CPA, CFF, CGMA, Member of the Firm, has successfully completed the certification process with the American Institute of CPAs (AICPA) to earn the Certified in Financial Forensics credential.  
The Certified in Financial Forensics (CFF) credential is granted exclusively to CPAs specializing in forensic accounting who demonstrate substantial expertise through their experience, knowledge, and skills. Credential holders apply specialized accounting skills in a range of service areas, including computer forensic analysis, bankruptcy, fraud prevention, financial statement misrepresentation, valuations, detection and response, economic damages calculations, and family law.
Tim joined the firm in 2008 and was admitted as a Member in 2013. He works in the firm's Hagerstown, Maryland office. Tim is the firm's Director of Quality Control and provides auditing and accounting services to manufacturing, construction, nonprofit, technology, and healthcare entities. Additionally, he is an active member of the firm's peer review team and serves as Team Captain on system reviews for firms located throughout the country. Tim coordinates and conducts continuing professional education (CPE) training sessions for the firm's accounting and auditing professionals. He also serves as Vice Chair of Allinial Global's National Accounting and Auditing Committee. Tim graduated from the University of Maryland with a Bachelor of Science in Accounting.
###
About SEK, CPAs & Advisors
SEK, CPAs & Advisors is a regional accounting and consulting firm with 175 professionals across six offices in Pennsylvania and Maryland. Since 1963, SEK has been committed to providing meaningful guidance and customized services to individuals and business clients in a variety of industries. For more information, visit www.sek.com.
Contact:
Kristina Tucker, Marketing Manager
Phone: 717-900-2021 | Email: ktucker@sek.com