Working Remotely: Stay Safe and Productive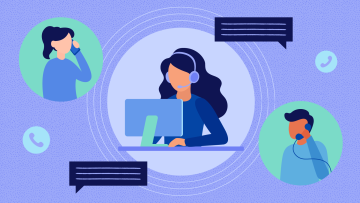 January 7, 2021
By: William D. Oyster, CPA - Member of the Firm
When the stay at home order was first issued, I had a wave of emotions. First, I was angry because, as a socializer, regular interaction with coworkers and clients is an important component of my daily routine. Second, I was worried about how I would continue to carry out my job responsibilities with the same efficiency and customer satisfaction that I achieved while working in an office setting.
It's safe to say we all went through a period of adjustment as we began working remotely. Maintaining a level of productivity and success will require continual evaluation and adjustment. Given that, I wanted to share some ideas that could be helpful to consider as you continue to work from home.
Stay in touch: Beyond a need for socialization throughout the day, keeping in contact with your team is essential to keep
everyone on track with projects and to ensure coworkers do not feel lost or disconnected. The use of video conferencing has increased significantly over the last year and is a great way to feel a connection to the team you would typically see face to face throughout your workday. Having a set schedule of check-ins, which most likely will need to be more frequent than when everyone was together in the office, ensures workflow and essential tasks are handled timely.
Along with check-ins, staff more than ever need supervisor feedback on work performance, advice on how to be effective in
their job duties, and direction to keep the organization moving forward with their strategic plans. Be sure to touch on these
topics as you communicate.
Evaluate your setup: Fundamental to being productive while working at home is having the right technology to work proficiently. It is imperative to have a proper workspace with a sufficient layout and equipment. While printers, scanners, and additional monitors are an investment, they may be necessary to efficiently perform your job duties. Also, having a comfortable setup and a proper office chair will allow you to have a productive workday.
Often, having the right software is even more important than having good hardware. More than likely, working remotely will require being more paperless than when you were in an office setting. To aid in that, PDF add-ins can help you organize information and documentation for review and approval. The ability to print to a PDF is a great way for workflow to move through the normal processes that used to involve shuffling paper. While a paperless approach creates a new set of challenges, most of them can be overcome either by thinking outside the box or a couple of Google searches. One problem I faced at the beginning was reviewing large electronic documents where I had to compare information on nonconsecutive pages. I learned quickly that most programs I worked with (Word, Excel, Adobe) had a feature under the view menu to create a new window. This allowed me to display the same live file on separate screens and made the review process much easier. Whatever your challenges are, sharing them with coworkers, peers, or even Google can help you find a solution.
Protect your data: With increased numbers of people working remotely, scammers are working overtime. Be extra cautious of unexpected communication through email, especially if it involves changes to financial information. Fraudsters will impersonate coworkers or bosses, vendors, or customers trying to get bookkeepers to change a direct deposit account or vendor payment account to divert funds to their accounts. Always follow up with an individual through a phone call or require official signed forms to be completed and submitted to authorize account changes. Extra security is also a good idea with employees accessing information remotely – two-factor authentication is available in progressively more software packages to help keep unwanted individuals from accessing confidential information. For example, a computer user is granted access to a website or application only after successfully confirming the login request is valid on a cell phone associated with their account.
As I mentioned, it's important to take the time to evaluate and re-evaluate that your processes are setting you and your organization up for success. I hope you stay happy, healthy, and productive!
Staff Members