Maryland Delays Certain Tax Payments for 90 Days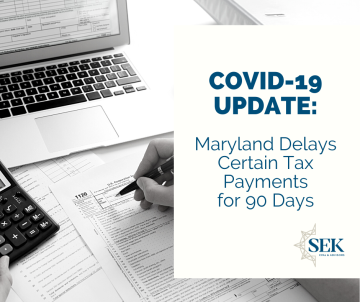 January 8, 2021
January 7, 2021
 
Maryland Comptroller Peter Franchot announced Wednesday that due to the economic impact on individuals and businesses, certain tax due dates will be extended for 90 days. By delaying the tax collection, Franchot said businesses will receive a total of between $1 billion and $1.5 billion in "immediate and temporary relief."
The deadline extends the business taxes and quarterly estimated income tax returns and payments originally due in January, February, and March to April 15. No interest or penalties will be assessed and businesses do not need to file a request for extension. Businesses and individuals with estimated income tax returns and payments due on January 15 will also be extended to April 15.
The business tax extension applies to taxes administered by the comptroller, which includes sales and use, admissions and amusement, alcohol, tobacco and motor fuel, as well as tire recycling and bay restoration fee returns and payments with due dates between January 1 and April 14.
The below table from the Comptroller of Maryland includes the original and updated deadlines: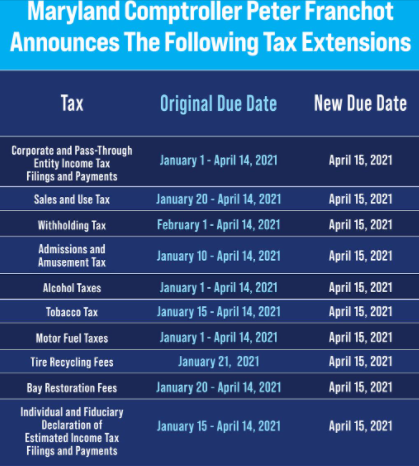 Sources:
Comptroller of Maryland Tax Alert
Baltimore Business Journal