Resources for Pennsylvania Businesses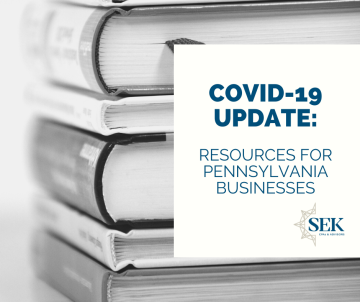 Last updated: March 31, 2020

Businesses have a vast network of services that they can contact to discuss the impact of COVID-19 on their daily operations and the future of their business. The following is a list of contacts and resources that are available to assist affected businesses. This list will be updated as we learn of additional resources.
 
CARES Act
About the Act: https://taxfoundation.org/cares-act-senate-coronavirus-bill-economic-relief-plan/
The Small Business Owner's Guide to the CARES Act: https://www.sbc.senate.gov/public/_cache/files/9/7/97ac840c-28b7-4e49-b872-d30a995d8dae/F2CF1DD78E6D6C8C8C3BF58C6D1DDB2B.small-business-owner-s-guide-to-the-cares-act-final-.pdf
Prepare to apply NOW! Items you may need: https://www.sek.com/blog/small-businesses-prepare-your-sba-cares-act-loan-now
---
COVID-19 Working Capital Access (CWCA) Program
Program supplying working capital to businesses negatively impacted by the COVID-19 pandemic, approved by the PIDA (PA Industrial Development Authority) Board on March 23, 2020. Applications are being first come-first serve basis. This is a competitive LOAN PROGRAM, not a grant.  Approval of applications are made at the state level; applicants may be declined. More info available here: https://www.sek.com/sites/default/files/COVID19WorkingCapitalAccess-Guidelines_2020.pdf
---
PIDA Low Interest Loans
https://dced.pa.gov/programs/pennsylvania-industrial-development-authority-pida/
---
PA Chamber of Business and Industry 
Business resources for Coronavirus: https://www.pachamber.org/coronavirus/
Guidance for employers to plan and respond to Coronavirus (COVID-19): https://www.pachamber.org/assets/pdf/coronavirus/US_Chamber_Foundation_Guidance_for_Employers_to_Plan_and_Respond_to_Coronavirus.pdf
---
Small Business Administration
Guidance for Businesses and Employers to Plan and Respond to Coronavirus Disease 2019 (COVID-19): https://www.sba.gov/page/guidance-businesses-employers-plan-respond-coronavirus-disease-2019-covid-19   
Disaster Loan Assistance: https://disasterloan.sba.gov/ela/Information/EIDLLoans
---
Unemployment Information (from uc.pa.gov website)
The Department of Labor & Industry, Office of Unemployment Compensation (UC), is reaching out to as many employers as possible to give you an update about some delays you may experience as a result of historic high UC claims volume.  We are also asking for your assistance because there are some steps you can take to help us manage the resulting work load.
Some of you may have little or no UC experience, while others know the process well.  After a claim is filed the employer receives the Notice of Application, form UC-45.  This form contains the separation information the claimant provided to us during the application process.  We ask employers to return this form when there is a conflict between the clamant provided information and the employer information.  If there are no discrepancies, please do NOT return the form.  Only returning the form if you need to identify a conflict will greatly reduce our incoming mail and save countless hours in mail processing time. 
In addition to the UC-45, employers will also receive the Notice of Financial Determination, form UC-44F(3) and the Request for Relief From Charges, form UC-44FR.  Please be aware that the volume of claims and the need to maintain social distancing will cause all these mailings to be delayed.  We are aware that appeals to the UC-44F(3) may be necessary and requesting relief from charges will also be important.  The department understands mail delays may make it difficult to respond timely.  We plan to be liberal when applying the relief from charge deadlines.  When filing appeals, please keep a record of when determinations are received and when and how the appeal is filed.
Also, please be aware some of the UC Board of Review's referee offices are proceeding to schedule unemployment compensation appeal hearings.  Due to the COVID-19 crisis, all hearings are temporarily being scheduled as telephone hearings.  Please be sure to check your mail for hearing notices.  If you are scheduled for a hearing, please provide your telephone number to the referee office as requested on the hearing notice.  If you will have any witnesses presenting testimony from a different telephone number, provide the telephone number of each witness.
If you're an impacted employer, get additional information and check out FAQs on our COVID-19 page, https://www.uc.pa.gov/COVID-19/Pages/default.aspx.